The middle of November should have seen the hugely popular Classic Motor Show taking place at the NEC in Birmingham but unfortunately, as has been the case with many events this year, it has had to be postponed due to the current COVID-19 pandemic in the UK – with a new one-month lockdown now also in place.
The event itself should have taken place from 13-15 November, but will now become a one-day online show on Saturday 14 November, so please try to log in and experience some of the fun if you can. Lots of activities are scheduled to take place from 09:00 onwards, with Silverstone Auctions also conducting an online auction.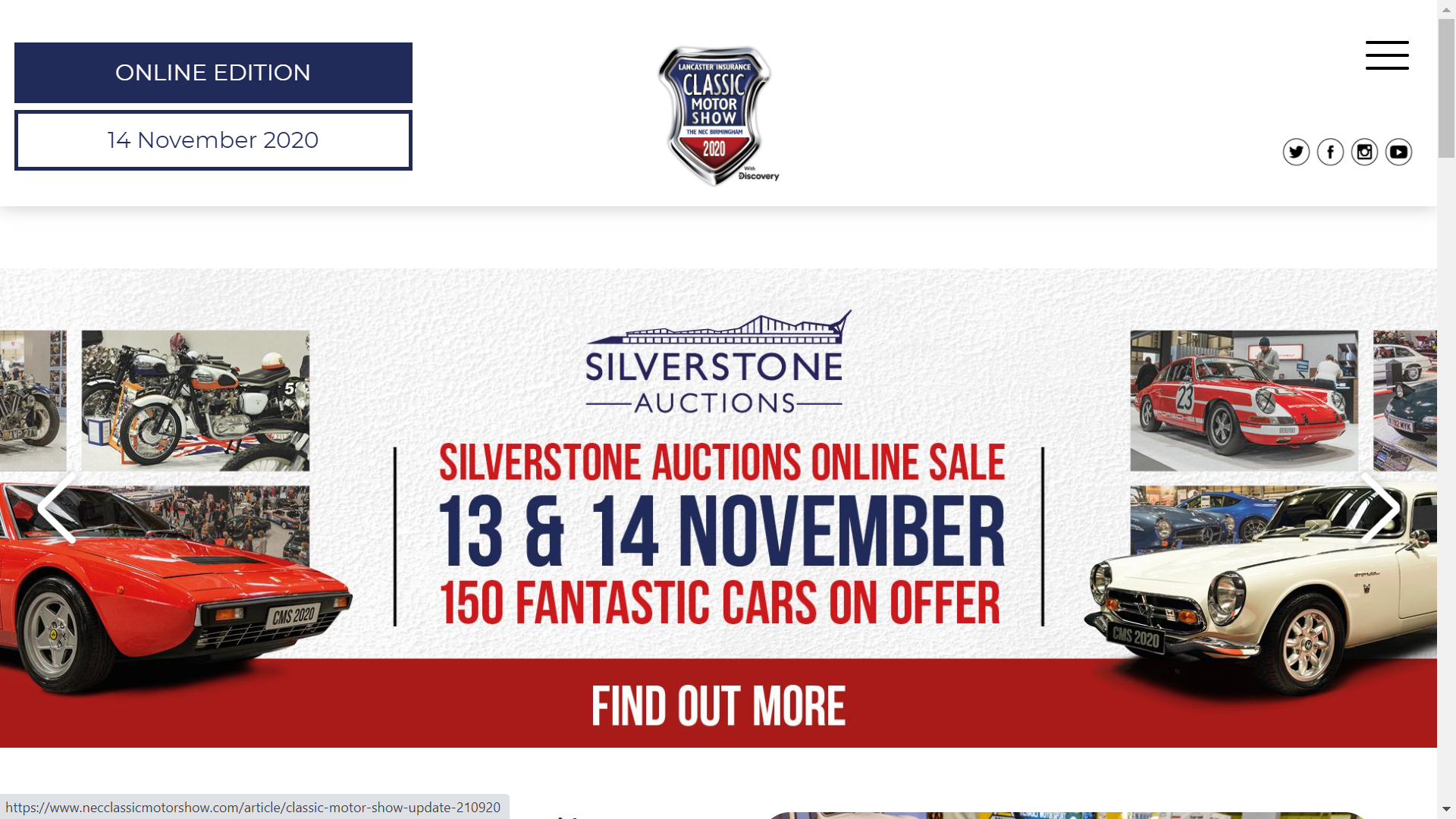 Ticket holders, if not seeking a full refund, can transfer their tickets to next year's event or they can use them to attend the Practical Classics Classic Car & Restoration Show in March 2021. For further information please log in to the website at www.necclassicmotorshow.com
With this in mind, we thought we would take a brief look at some of the events that have been rescheduled – or indeed are still hoping to take place – in December 2020 and early 2021. As always, please check with the event organisers before purchasing tickets or travelling to any event.
The Bonhams MPH Club at Bicester Heritage is due to hold an auction on 11 December, so please send them an email directly for more information to
Running over two days from 11-12 December is the Historic Auctions 2020 at Ascot Racecourse. A fine selection of classic and sports cars will be up for auction there.
An online auction will be taking place on 12 December, this being the Classic Car Auctions 2020. If you need to know more then give them a quick call on +44 (0) 1926 640888
Moving into 2021, we thought we would try and highlight one event worth looking out for each month during the first half of the year, so here we go.
January 1st: Brooklands New Years Day Gathering from 09:00 – 16:00. This is an annual classic gathering of over 1000 vehicles to start the year, not to be missed if we are allowed to be there, more information at www.brooklandsmuseum.com
February 18-21: London Classic Car Show at London Olympia. This ever-popular event is scheduled to take place at Olympia in 2021 and more details can be found at www.thelondonclassiccarshow.co.uk
March 26-28: Practical Classics Classic Car & Restoration Show at the NEC. Over 1000 classic cars will be on display and over 150 clubs will be present, well worth a visit. For more details check out their website at www.necrestorationshow.com
April is looking a little sparse at the moment, so we have selected two events in May. Kicking things off from the 1st to 2nd May will be the Donington Historical Festival. This event will feature hundreds of world-class historic racing cars, a must for any classic racing enthusiast, and will also be the 10th anniversary. More details at www.doningtonhistoric.com
Also in May, but with an actual date still to be confirmed, is the Prescott La Vie en Bleu at the Prescott Speed Hill Climb (Home of the Bugatti Owners' Club). A fine selection of historic cars will be on display with various events arranged throughout the day. To find out more take a look at www.prescott-hillclimb.com
June 9-10: The hugely popular London Concours d'Elegance will once more take place in the heart of the capital city. This is the ultimate automotive garden party and will again feature many of the most astonishing cars ever built. Full details can be found at www.londonconcours.co.uk
So there we have our mini-summary of events that are currently scheduled for early to mid-2021. There are many more events to attend so please look online, in the local press and check back with us here at Classic Motors For Sale as we will certainly be giving further updates in the new year.
Let's hope that 2021 will not face the major disruption that we have all had to endure this year and we can enjoy our classic car events as we should.