The Porsche 911 GT1 was originally designed to compete in the GT1 class of sports car racing, making its competitive debut for Porsche in the 24 Hours of Le Mans race in 1996. As this was a completely newly-developed car, to keep in-line with the rules of the competition and gain entry, Porsche also had to manufacture a street-legal version – and thus, the limited-edition 911 GT1 Strassenversion (street version) was born.
In competition, the 911 GT1 entered 135 races and won 47 them, with 34 pole positions recorded. Between 1996 and 1998, several modifications were made to the car, resulting in a perfect first and second finish at the 1998 Le Mans race, mainly thanks to the reliability of the cars.
Image is representative only and not the car we are offering for sale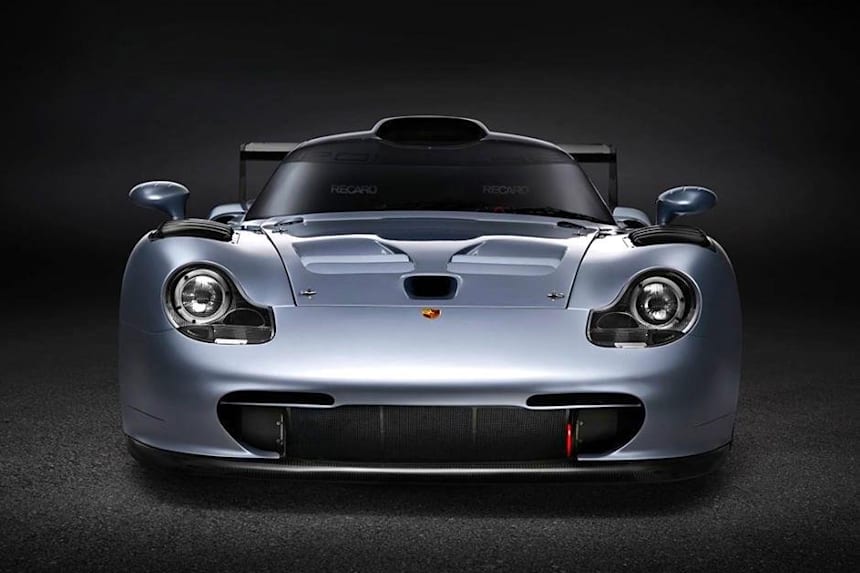 With its 3.2-litre water-cooled mid-engine, a 6-speed sequential manual transmission, and capable of reaching speeds of just over 200 mph, the 911 GT1 soon became much sought after. Approximately 20 of the street-legal cars were built in 1997, with later reports claiming that roughly 40 GT1s were manufactured, although this has never been officially confirmed, split between just 22-23 street versions and approximately 18 racing prototypes.
Most of these production models were finished in either Arctic Silver or Fern White, with just three others in one-off colours of Polar Silver, Indian Red, and Pastel Yellow, making it a very attractive two-door coupe sports. Despite a slightly de-tuned engine, this twin-turbocharged flat-6 was still capable of 0-80 mph in just 5.4 seconds and 0-155 mph in a rapid 17.4 seconds, with a top speed of just over 190 mph.
Being such a limited-edition, the Porsche 911 GT1 is always a much sought after classic, with very few opportunities arising to own one of these rare beasts. However, if you are a serious buyer and would be genuinely interested in the chance to become a proud owner, we may have that opportunity for you here at Classic Motors For Sale right now!
All details, specifications and price are only available as a POA (Price On Application) but if you are serious to find out more about the 911 GT1 that we have access to, then please contact us directly using the details below.
This is a once-in-a-lifetime chance to become one of just a handful of owners of this now iconic classic, so don't delay if you have genuine aspirations, get in touch today, as this 911 GT1 won't be on the grid for long!
Contact | Nick Aylieff | Classic Motors For Sale |