The 1971 movie "Le Mans" starred legendary actor Steve McQueen, and saw him drive what has since become an iconic Porsche 917K. For a Hollywood celebrity, McQueen amassed possibly the greatest collection of cars, motorcycles and planes ever.
Considered by many as the most famous Porsche 917 ever built, it was last sold at an auction in 2017, bringing in a figure of 14 million US Dollars, making it the most expensive Porsche ever. Currently, it takes pride of place as part of the Brumos Collection, a relatively new automotive museum in Florida, where it is on display for all to see.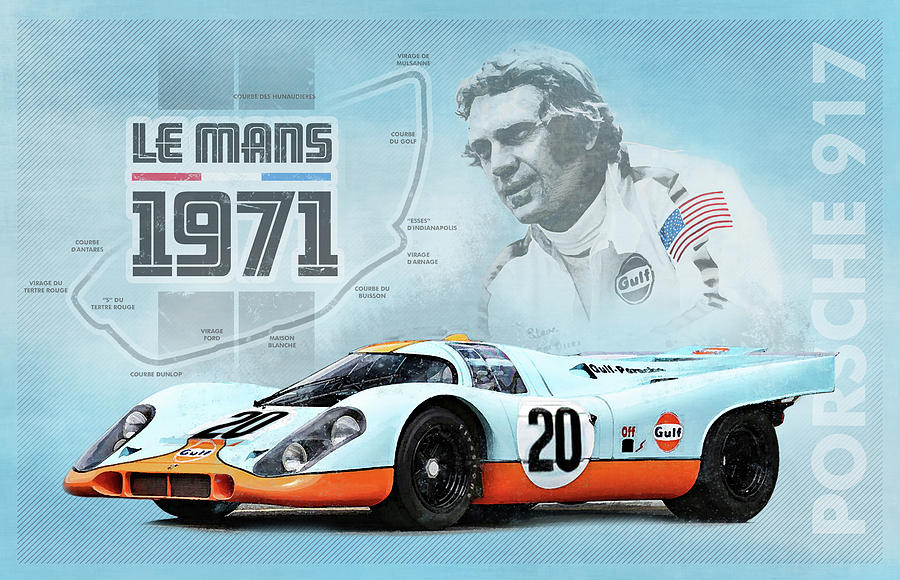 A number of cars were used to get the desired footage for the film, but this specific iconic racer, chassis number 917-024 with its famous Gulf livery, is the one that gets all of the attention. It was originally used for Le Mans testing before taking its starring role in the film featuring McQueen, being owned by Jo Siffert (a factory test driver) until his sad death in a racing accident several years later.
It is believed that the 917K was sold to a collector in France in the late 70s and later it became housed in a barn throughout the 80s and 90s, before resurfacing with phoenix-like grace after being fully restored in 2001. The engine in the car is not the original one as that was returned to Porsche after the movie had been made.
The 917 gave Porsche their first overall wins at the 24 Hour of Le Mans in 1970 and 1971, with only 25 of the 917 built and then a further 12 of the 917K, which McQueen used in the film. With its rear mid-engine and rear-wheel-drive, this stylish 2-door coupe that developed from a 4.5 to a 5-litre engine was an aerodynamic work of art.
The actual Le Mans film was purely a fictional affair but did feature original footage from the 1970 race. The film focuses on the Porsche v Ferrari battle, which ultimately ends with the desired Porsche 1-2 win. McQueen had intended to try and race in the Le Mans, but the entry was not accepted.
A documentary was made in 2015, outlining McQueen's desire and determination to get the movie completed, so for those with a genuine interest in this movie and more of the car's history, then it's worth taking a look at Steve McQueen: The Man & Le Mans.