In most of the northern hemisphere winter is fast approaching, so thoughts now start to turn to the all-important winter storage of our classic cars. Today, we take a look at some of the essential points to consider when storing your vehicle and also showcase one of the leading dedicated classic car storage facilities in central London, this being London Car Store, which is the only car storage facility actually located in central London.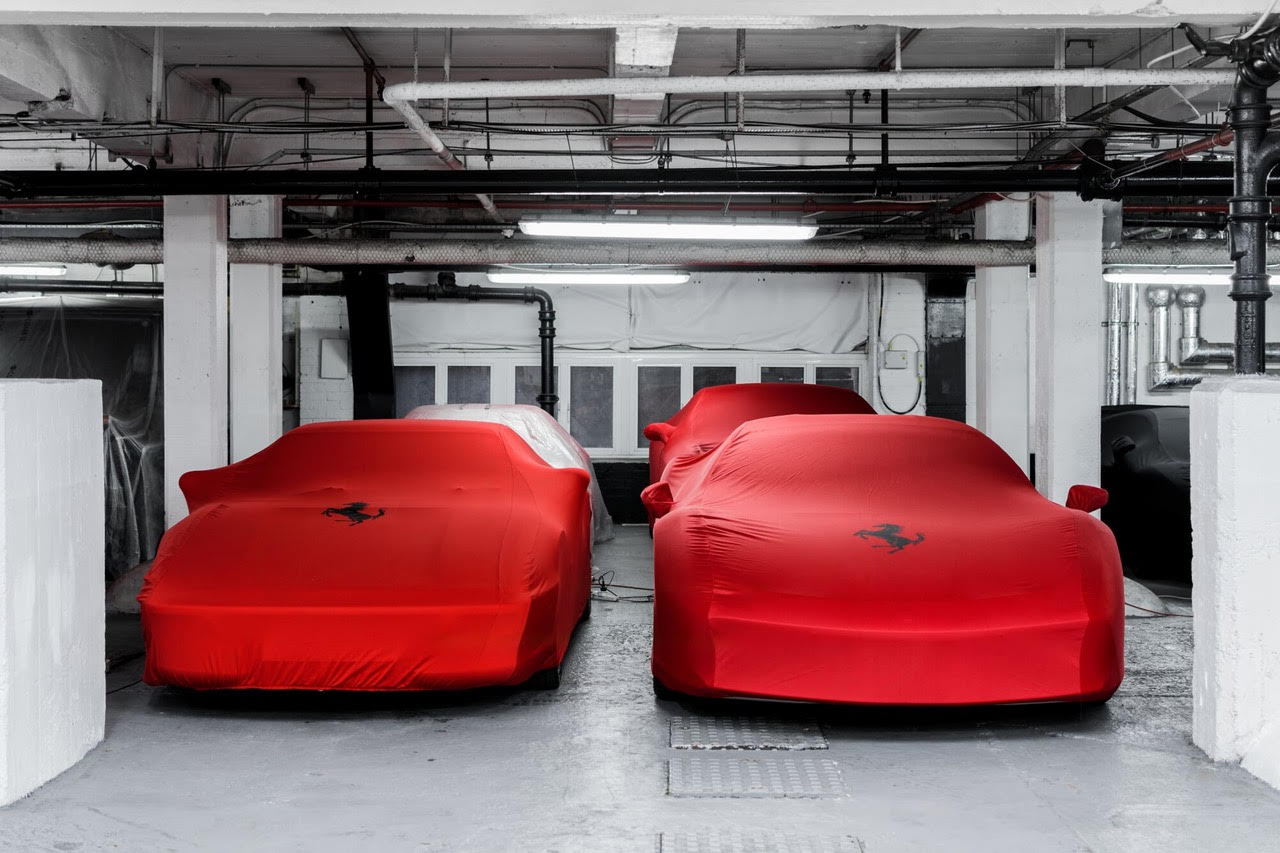 Firstly, Cleaning Your Car fully inside and out, including a wash, polish and wax, is an essential starting point. Make sure there is no rubbish or forgotten food hidden away anywhere too. After cleaning, a short run for just 10 minutes will ensure all brake discs are dry.
Next, Wheels and Tyres need inspection so remove and clean all wheel nuts and ensure they are greased with a good anti-seize on the threads before putting them back on. For the tyres, clean out any debris and add an extra 10 psi, unless you can store the car using axle stands – but remember to check tyre pressure and reduce it should you wish to take the car out for a drive.
Moving on, Fuel Levels are essential so fill the fuel tank with premium-grade fuel to avoid any condensation and, if you need to, add some fuel stabiliser to help. Also, remember to fill your anti-freeze with liquid at the right concentration.
Parking can be overlooked, so be sure to park your vehicle with the bonnet facing out, to enable easy access to the battery in particular. Leave the handbrake off and the car in gear (or in "Park" if an automatic) as this will prevent brakes from seizing.
Battery Care is essential although there is no need to remove the battery during winter storage, but it should be maintained and charged. We recommend using a good battery conditioner & charger for this purpose. Keeping windscreen wipers slightly off the glass is also a good idea, to prevent the rubber from perishing.
Next, Preventing Moisture and allowing Air Circulation is essential so it's a good idea to leave the driver's window slightly open, just enough to allow a little finger through but no more, as this will allow a small air flow in the car. Using a dehumidifier is also an option but be sure it is not set too high, as this will draw all moisture from everything.
Finally, it is time to Cover Your Car, so prior to covering it might be useful to put a bung of some kind in the exhaust and cover air intakes. Your actual car cover should not be 100% waterproof so it's best to invest in a semi-tailored breathable cover of some kind. For added security and safety, ensure all garage windows are covered, no garage door remote is left in the car, and you have valid insurance even during these storage months.
During the winter months, keep an eye on your car at least every 30 days. Check the battery conditioner, look over the vehicle for any unwanted additions, look in the boot, under the bonnet, check tyre pressures. Keep an eye open for any oil leaks, make sure that no water or fuel is leaking into the engine oil, and get in and pump the brakes every week or so.
It's not recommended to start up the engine and keep it running for a while during storage but, if there is a nice day, take the car out for a short run, just to warm everything up. However, be sure to check everything has been connected (or disconnected where necessary) before going out and follow the storage steps again on return.

All sounds a lot to do, doesn't it? However, help is at hand if you don't want the hassle yourself. There are many excellent car storage providers out there and, if you are in or near central London, we can strongly recommend the services of London Car Store, a secure car and motorcycle storage facility right in the heart of the capital.
Just five minutes' walk from Marble Arch tube station and the Paddington mainline, they offer an underground storage location that has no public access and has a 24-hour monitored alarm system linked directly to the Metropolitan Police Service. On weekdays, the facility is also fully manned for the full duration of their business hours.
London Car Store will clean your car, complete a thorough check, and then cover it with static dust sheets (unless you wish to use your own cover). If you bring your car in with its battery conditioner they'll ensure it remains in perfect condition throughout, if you don't have one then they have industry-respected CTEK battery conditioners available for purchase.
During storage they will also check the oil, washer and tyre pressures at no extra cost – it's all part of the service – with a minimum storage period of just one month.
Give them a call if you have any questions or require information on 020 7262 8887 or check out their website at www.londoncarstore.com